The effects of biostimulation laser
Biostimulation laser Maestro emits specific light which has a positive effect on the functioning of cells. Light energy increases the permeability of cell membranes, improving the cells' nourishment and thereby also their regeneration capabilities. The healing light of the biostimulation laser is especially effective for:
the suppression of inflammatory reactions of the skin (such as acne or cold sores - for more information see "How to get rid of cold sores")
fast healing of post-surgical wounds
the treatment of both recent and older scars - for more information see "Scars and Stretch Marks"
the treatment of scalp diseases, as it stimulates hair growth
Furthermore, it contributes to the overall improvement in skin condition, its regeneration and hydration, smoothing and greater flexibility. It can also be used to relieve pain in joints, back or to alleviate swelling, etc.
Skin hydration and regeneration
Excellent results can also be be reached when the biostimulation laser procedure is combined with the laser gel mask. The most suitable course of treatment is a series of individual procedures as recommended by the specialist.
Used methods
High performance LED lamp for anti-aging photomodulation and photodynamic therapy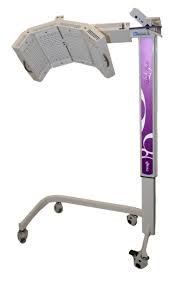 Biostimulation of skin Medelisol
Price
Initial examination (payed only on the 1st visit)
500 CZK
1 session (depending on the extent)
700 CZK
Subscription for a series of 5 sessions (depending on the extent)
3,000 CZK
Subscription for a series of 6 sessions (depending on the extent)
3,500 CZK
Subscription for a series of 10 sessions (depending on the extent)
5,000 CZK
Laser hydration and regeneration gel mask
Face, neck and décolletage (30 mins)
800 CZK
Subscription for a series of 6 sessions
4,200 CZK