eTwo - The new system for skin rejuvenation presented by the world's largest manufacturer of aesthetic medicine systems Syneron Candela-uniquely combines methods Sublime™ and Sublative™.
Sublime™ uses an elosTM combination of safe and effective intensity of infrared light and bipolar radiofrequency for in-depth skin remodelling by stimulation and shortening of slack collagen fibers without causing any disruptions to the skin.
Sublative™ is a fractional technology with a maximum therapeutic effect in the subcutaneous tissue while causing minimal damage to the skin surface. It emits heat induced by radiofrequency flow which is inserted into the skin through direct contact with the matrices of bipolar microelectrodes. It restores collagen and elastin, tightens the pores and subsequently reduces fine wrinkles and brightens the skin surface.
What type of treatment is most suitable for me?
Treatment by Sublime™ applicator is designed for immediate and long-term smoothing of wrinkles and improvement of facialcontours.
Treatment by Sublative™ applicator is very effective for smoothing fine and moderately deep wrinkles, acne scars, post-surgical scars, and for the reduction of hyperpigmentation and enlarged pores. It significantly affects bright stretch marks and it can even be applied on stretch marks on the breasts.
Is eMatrix suitable for me?
The treatment is safe, effective and suitable even for darker phototypes or tanned skin, for which laser treatment is not an option. The treatment can be performed al year long. Generally, three procedures should be performed with an interval of four to six weeks between each.
What type of care should be devoted to the treated skin after the procedure?
Sublime™ treatment has immediate visible effects, causes no damage to the skin surface and the procedure will not restrict the client in any way. A soothing cream will be applied on the treated area immediately after the procedure.
Sublative™ procedure causes redness and slight swelling. If the procedure's parameters are set on high intensity, delicate skin scabs will appear on the skin. They will, however, fall off after two or three days. A soothing cream will be applied on the treated area immediately after the procedure. It is possible to return to normal daily activities on the next day. Moisturizers and make-up can be applied already after 12 hours since the end of the procedure. The treated area should be protected from sun by sunscreen with a minimum SPF 30 for at least one month.
What result can I expect?
Immediate temporary improvement can be observed after every procedure - the skin brightens up as wrinkles and skin unevennesses are reduced. The best long-term effect can be observed in two to four months after the end of the treatment when the effects of the newly formed collagen fully manifest themselves.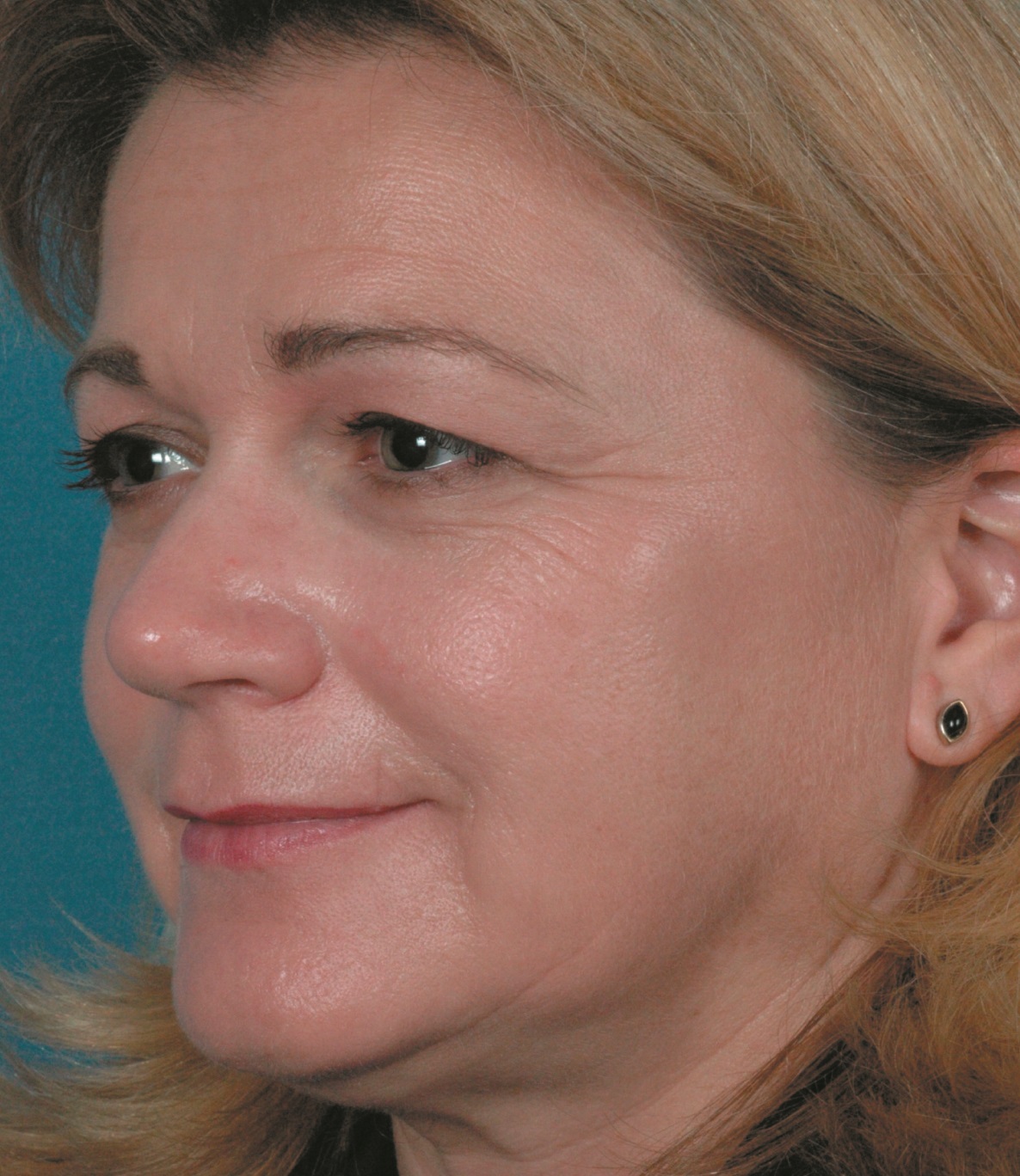 Before the procedure

After the procedure
Consult the expert
Use our online consultation centre and ask our experts about anything you want to know about this procedure.

| eMatrix | Price 1 treatment | Subscription for 3 treatments |
| --- | --- | --- |
| Entire face | 8,500 CZK | 22,000 CZK |
| Perioral area | 4,500 CZK | 11,000 CZK |
| Eye contours | 3,500 CZK | 9,000 CZK |
| Upper lip | 2,000 CZK | 5,000 CZK |
| Décolletage | 9,000 CZK | 23,000 CZK |
| Backs of hands | 6,000 CZK | 16,000 CZK |

Initial examination 500 CZK (payed only on the 1st visit)