Medelisol emits monochromatic light of various colour spectrums. This device penetrates the tissue and accelerates its regeneration. High-performance LED light is a real breakthrough in the treatment of skin diseases and photorejuvenation.
The innovative Medelisol LED technology is a safe and effective alternative to more invasive treatment methods. It can soften and tighten the skin, unite its colour tone or reduce pores.
Depending on the needs of a particular client, we use different colour spectrums of LED light for treatment or rejuvenation. Yellow light promotes healing and skin rejuvenation, it can stimulate the production of collagen. Purple light heals rosacea or acne manifestations, it can also soften scars and redness after acne. Red light is used to soothe and heal the skin. Medelisol also offers an option to combine all light spectrums together based on the patient's problem.
The Medelisol LED lamp is suitable for the treatment of many medical and cosmetic indications. In particular:
For the fast healing of postoperative wounds
For the adjustment of fresh or older scars and stretchmarks
To suppress inflammatory reactions of the skin (e.g. acne or herpes)
For the treatment of scalp diseases, as it stimulates hair growth
For healing after laser procedures

Furthermore, it contributes to the overall improvement of skin condition, its regeneration and hydration, smoothness and greater flexibility. It can also be used to soothe and relieve pain in joints, back, soothe swellings, etc. This Medelisol LED lamp can also achieve excellent results combined with the use of laser gel mask. This combination of LED lamp and gel mask contributes to faster regeneration and hydration of the skin. The suitable course of treatment consists in a series of individual procedures as recommended by the specialist.
MEDELISOL LED LAMP TREATMENT
The enormous advantage of Medelisol is the ability to treat even a larger area of ​skin – for example, the entire face, neck or décolleté. Thanks to the flexible construction of the device, other parts of the body can be treated as well. Furthermore, this procedure is absolutely safe and painless. There are no significant restrictions after the procedure. The duration of the LED lamp treatment procedure varies according to individual needs, but it usually takes around 30 minutes.
Used methods
High performance LED lamp for anti-aging photomodulation and photodynamic therapy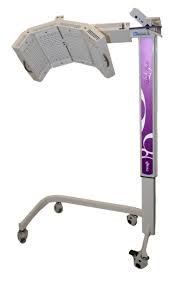 Biostimulation Medelisol
Price
Initial examination (payed only on the 1st visit)
500 CZK
1 session
500 CZK
Subscription for a series of 6 sessions
2,400 CZK
Laser hydration and regeneration gel mask
Face, neck and décolletage
800 CZK
Subscription for a series of 6 sessions
4,200 CZK