Autumnal offer of 3+1 session for free of skin rejuvenation
Do you see signs of aging in the mirror? Creams and serums are not enough for your skin anymore? Do you suffer from enlarged blood vessels?
You can rest assured we encounter these issues at our clinic on the daily bases. That is why we told ourselves we will present you with a special offer this November which will surely make you happy. Allow yourself the luxury of getting a smoothed out and revived skin thanks to rejuvenation in the stressful period before Christmas.
We offer you an advantageous package of 3+1 treatment for free thanks to which you can save up to 5000 CZK.
How does rejuvenation work?
It is a non-invasive rejuvenating procedure making use of the capacities of the V-beam laser. The laser beam warms up the collagen threads and as a result wrinkles become smoothed out and the skin´s texture is softened. The V-beam laser deals easily also with enlarged blood vessels.
The advantages of skin rejuvenation
The procedure doesn´t require anesthesia
Dynamic cooling works against redness and the swelling of the skin
Time efficient procedure (one session takes approximately 30 minutes)
The procedure is repeated approximately once a month
The number of sessions needed is only 3 to 4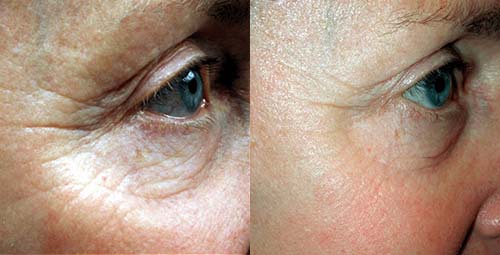 Become younger before the end of this year
Treatment without limitations
The only restriction that the client needs to take into account is the need to protect the skin against sun rays for a few days after the procedure. That is why autumn is the best time for this laser treatment.
The results of skin rejuvenation
The price list of the special offer
| Area | 3 sessions | 4 sessions | You will save |
| --- | --- | --- | --- |
| Décolletage | 10 700 Kč | 13 500 Kč | 2 800 Kč |
| Neck | 6 000 Kč | 8 000 Kč | 2 000 Kč |
| Neck and décolletage | 12 600 Kč | 16 000 Kč | 3 400 Kč |
| Face | 10 700 Kč | 13 500 Kč | 2 800 Kč |
| Face and décolletage | 16 000 Kč | 20 000 Kč | 4 000 Kč |
| Face nad neck | 12 600 Kč | 16 000 Kč | 3 400 Kč |
| Face, neck, décolletage | 18 500 Kč | 23 500 Kč | 5 000 Kč |
You can take advantage of this offer from 1st until 30th November 2019.
Esthé Laser Club

In case you would like to be informed about the news and special offers of the clinic you can sign up to our club.
Enjoy the summer without wrinkles and come see us for a discounted botox procedure!
The removal of skin protuberances by laser is a common and safe procedure, but even so, you might want to know a but more about it. The most common questions are answered directly by the senior doctor of our laser centre MD Pavel Zloský below.
A special type of skin protuberances are fibroma. They are formations on the skin like freckles, but go simply removed by laser. Laser removal doesnť take long time and leaves no visible scar.