HOW DO WE TREAT ACNE AT ESTHÉ?
Widespread squeezing of pimples is just not the best way of getting rid of acne. You often cause infection in the pimple which significantly prolongs and complicates the healing process. At our clinic of aesthetic medicine, we will help you to get rid of pimples painlessly and permanently.
CANDELA SMOOTHBEAM LASER, USA
For the treatment of acne we use the Smoothbeam laser, which works with deep heating pulses and subsequent freezing of the skin. Laser light has a therapeutic effect on sebaceous glands. Their production is restricted, so they do not expand and inflame. The treatment can lead to a significant long-term improvement in the symptoms of acne in all its phases. One can observe a visible loss of acne symptoms already after the first procedure. It has a good effect even on rough and uneven skin with little scars. It stimulates the formation of new ligament fibres by evening out the skin surface.
WHAT IS THE COURSE OF THE SMOOTHBEAM LASER ACNE TREATMENT PROCEDURE?
The basic procedure is carried out once every 3 weeks. Before the procedure, it is necessary to apply the anaesthetic cream for 1 hour. Once this is done, the whole procedure is painless and comfortable. The procedure takes up to 20 minutes and the skin is slightly reddened after it. This redness should not last for more than 1-2 days. A few days after the medical procedure, it is necessary to protect the treated area form the sun.
To increase the effect, it is recommended to combine the laser procedure for example with chemical peeling, which is a popular non-invasive procedure. This method leads to the regeneration of the skin by the action of special formulations with glycollic acid content (AHA) and thereby alleviates the symptoms of acne.
What are the symptoms of acne?
The symptoms of acne include inflammatory manifestations such as festering blisters and pimples, but also non-inflammatory manifestations – clogged pores. After healing, red spots and little scars often appear. To reduce them, it is possible to use the fractional laser CO2 which is suitable for the removal of scars, stretch marks or wrinkles. Enlarged pores can be easily tightened using the eTwo/eMatrix device.


Before the procedure


After the procedure
Consult the expert
Use our online consultation centre and ask our experts about anything you want to know about this procedure.

Used methods
Candela Smoothbeam is a diode laser designed for the treatment of acne.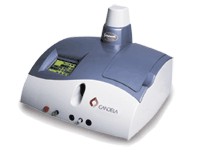 Smoothbeam Laser
Price
Initial examination (payed only on the 1st visit)
500 CZK
Entire face
3,500 CZK
Face and décolletage
3,900 CZK
Back
4,900 CZK
Subscription for 3 sessions
Entire face
9,300 CZK
Face and décolletage
10,500 CZK
Back
13,500 CZK
Combination of laser Smoothbeam with chemical peeling
Entire face
4,400 CZK
Subscription for a series of 6 sessions (3x laser Smoothbeam and 3x chemical peeling)
13,200 CZK
Face and décolletage
6,000 CZK
Subscription for a series of 6 sessions (3x laser Smoothbeam and 3x chemical peeling)
18,000 CZK
Back
7,100 CZK
Subscription for a series of 6 sessions (3x laser Smoothbeam and 3x chemical peeling)
21,300 CZK