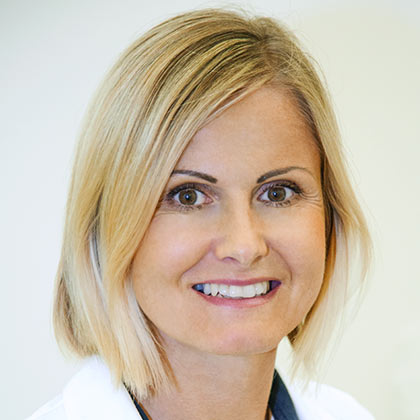 Education and work experience:
2000 – Graduation at the Third Medical Faculty of Charles University, Prague
2005 – Board Certification in the field of dermatovenereology
2005 - Faculty Hospital Královské Vinohrady, Prague 10
April 2006 to September 2014 - GHC Clinic Prague
September 2015 until now - Esthé Laser Clinic
January - June 2015 University Hospital Motol
Courses and internships:
April 2006 - Course of application of filling materials
May 2006 - Course of botulinum toxin application
January 2007 - participation at the IMCAS congress in Paris
February 2007 - professional internship in dermatosurgery, University Hospital Královské Vinohrady
May 2007 - Carboxytherapy workshop
November 2008 - Mesotherapy workshop
January 2009 - participation at the IMCAS congress in Paris
April 2009 - workshop The Latest Fractional Laser Technologies
March 2014 - Course Dermatoscopy in Practice
September 2014 - Congress ON IN UNDER THE SKIN
September 2014 - e Matrix radiofrequency workshop
November 2014 - workshop Application of Filling Materials
January 2015 - dermatological department in Florida, USA
May 2015 - Congress of the Czech Dermatological Society
Membership in professional associations and societies:
Czech Medical Chamber, Society for Corrective Dermatology and Cosmetology, Czech Society for the Use of Laser in Medicine
What has been your main focus in the field of dermatology?
After passing the board certification in the field, I have been focused on corrective dermatology methods. If you feel satisfied, people can see it. Helping people feel better by applying m corrective dermatology methods makes me happy.
What procedures do you specialize in at the Esthé Clinic?
Everyone's face is unique. What is the true art of my profession is attaining visible rejuvenation results while preserving one's natural looks. This is what I try to accomplish first of all, I only resort to such corrective dermatology procedures that lead towards this end.
How do your consultations look like?
With my clients, I most often deal with the problems in the facial area, which is very sensitive. The client comes to me with a certain problem which we always focus primarily on. I simultaneously assesses its state from my perspective. After becoming familiar with the problem, due to which the client came to me, I also acquaint him with my opinion and recommend him or her the appropriate treatment. Eventually, the client decides for a specific procedure.
Can you recall a client whom you helped and were very happy about it?
With age, everyone experiences the deepening of the grooves leading from the nasal wings to the corners of the mouth and the dropping of the corners of the mouth. Clients often come to me with the problem that the expressions of their faces are "sad." This problem can be easily adjusted by the application of wrinkle fillers on the hyaluronic acid basis. The procedure is quick, almost painless and its outcome is visible immediately after the application. It brings immediate joy to the clients and hence to me too.
Based on your experience, what procedures can slow down the signs of ageing or delay them?
I attach great importance to rejuvenation methods that slow down skin ageing. Chemical peeling is suitable in younger age, whereas with increasing age various laser treatments are more suitable. Its result is natural recovery, brightening of the skin and the preservation of its youthful appearance.
What do you recommend to people between 35 and 50 years of age in skin care?
Make-up removal and skin cleansing every day in the evening is essential. Day care as well as night care should not be neglected. I recommend cosmetics depending on the age and skin condition. It is advisable to use special preparations for the eye, neck and décolletage area. My favourite brand of skin care products is Neostrata.
I always recommend protection of the skin from sunlight as sunlight significantly accelerates skin ageing. Sometimes it is also suitable to perform some rejuvenation method, such as chemical peeling or laser treatment.
---