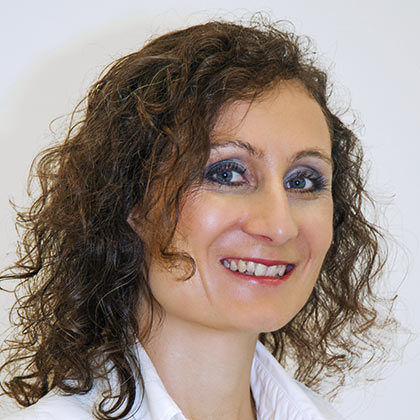 Education and Medical Practice:
First Faculty of Medicine, graduation in 1998, board certification in dermatovenerology of I. and II. degree
Sokolov Hospital – X-ray Department
Teplice Hosital – Dermatovenereology Department
P–P Clinic Kladno – Dermatology clinic
Dermatology Clinic in Modřany
Mediconet s.r.o. – Dermatology Clinic
Unicare Medical Center – Dermatology
Esthé - Klinika estetické medicíny
Membership in professional associations:
Member of the Czech Medical Chamber and the Czech Dermatovenereology Society.
Publications:
Possibilities of High Frequency Ultrasound Use in Dermatology (Czech-Slovak Dermatology magazine)
Co-authorship of books:
Preventive medicine, Almanac of outpatient gynaecology, Estrogen deficiency
Magazine Contributions:
Dermatology for practice, Paper selection, educational articles in magazines for the general public
As a doctor, what do you specialize in? What interests you most in your field?
"Prevention is important in all fields of medicine and I try to emphasize its importance to all patients. I follow all the news on a regular basis, not only in my field but also in those related to dermatology. In my field I am particularly interested in the problems of acne, atopic eczema and of course in antiageing or skin rejuvenation."
What do you specialize in at Esthé Clinic?
"Mesotherapy, PRP therapy, filling applications and their suitable combinations with laser treatment and the application of botulinum toxin, which is very much in demand."
How do your consultations look like?
"Consultation with the patient is important for establishing a relationship and planning care. I always devote sufficient time to it in order to reach an understanding with the patient and to find out what bothers him or her the most. We plan the procedures together with the patient on an individual basis according to his or her needs. Each patient is given enough time to be able to ask questions and receive answers. We try to describe to our patients how the procedure is carried out and explain the principle of how the treatment works, why some combinations of treatments are useful."
Can you recall a story of a patient whom you helped and were very happy about it?
"Each patient has different worries and what may seem as a trifle to someone, may be a very bothersome issue for another person. I am certainly pleased that people do not underestimate prevention, protect themselves from the sun and come to preventive check-ups frequently. We capture skin cancer in the early stages more often than advanced tumours. Every time I help someone, I am very happy about it and this does not always need to be a case requiring a complicated solution. I recently helped a patient who was very bothered by excessive underarm sweating, it was very uncomfortable for him and it was making social contact very difficult for him. The application of botulinum toxin put a stop to sweating and since then the patient has been feeling very well and regularly attends the procedure once a year."
Have you encountered dissatisfaction or complications caused by someone without the necessary qualifications?
"I have encountered photoepilation performed by unqualified people in a beauty parlour many times. The client had burns and subsequent pigmentations in the treated area."
Based on your experience, what procedures can slow down the signs of ageing or delay them?
"A very effective treatment is the so called laser rejuvenation, which is preferably combined with mesotherapy or treatment using one's own plasma called PRP. The procedures must be repeated."
What do you recommend to people between 35 and 50 years of age when it comes to skin care?
"The quality of skin is determined genetically to a large degree. Premature ageing is also caused by excessive exposure to UV radiation. Thus, the basis of care is sun protection. As a result of the effect of a variety of other external influences, the skin is often dry and sensitive. As part of home care it is suitable to focus on skin hydration. At the clinic, I often recommend procedures to the patients, which intensively firm the skin and improve its nutrition. With age, different pigmentations increase in number which can, however, be removed by laser, thus endowing the skin with a more youthful appearance."
---