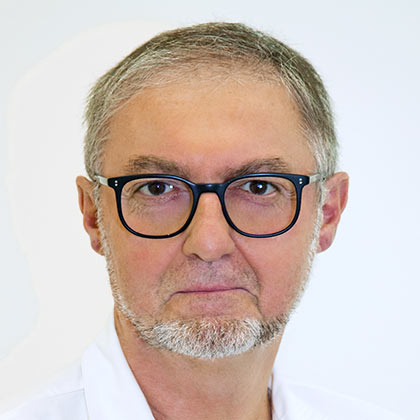 Education and work experience:
1973 - graduation at the First Faculty of Medicine, Charles University in Prague
1977 and 1983 - Board certification in dermatovenerology of I and II. degree
42 years of experience in the field of dermatology
1973 - 1975 - Department of Dermatology in Teplice
1975 - 1985 - Laboratory for the Research of Metabolism and Skin Hygiene
1985 - 2002 - First Dermatological Clinic, First Faculty of Medicine, Charles University in Prague, Institute of Cosmetics
Since 2002 - senior doctor of the Esthé – Clinic of Aesthetic Medicine
In 2015 a ceremonial introduction to the Dermatology chamber of the Czech Medical Association of J.E. Purkyně
As a doctor, what do you specialize in? What areas are you most interested in?
I specialize in the diagnostics of skin diseases, dermoscopy and the treatment of pigment symptoms.
What procedures do you specialize in at the Esthé Clinic?
It is precisely the dermoscopic diagnosis of pigment changes in skin and their removal, application of botulinum toxin for the correction of facial wrinkles and application of botulinum toxin for the elimination of excessive sweating. I also work with high-performance lasers here, in particular, when it comes to skin rejuvenation.
How do your consultations look like?
I always try to figure out what seems to be bothering the client the most to be able to suggest the most appropriate help. Even if the client is uninformed, I try to explain to him or her the origin of the problem and the treatment options as clearly as possible. I will describe the selected method of treatment in detail, point out the possible complications and inform the client of the potential painfulness of the procedure. The client must be informed of everything in advance. Sometimes, the clients expect a better result than the treatment possibilities can offer. Or for various reasons, the procedure cannot be performed. On principle, I do not recommend procedures if I am not absolutely sure that they will benefit the treatment.
Can you recall a client whom you helped and were happy about it?
Every satisfied client makes me happy. Probably the most peculiar case was a lady of about sixty years of age whom I prescribed repeated high-performance laser rejuvenation. It had an extremely positive effect on her skin. This lady was incredibly excited about the results, she changed her hairstyle, cosmetics, and finally declared that she was going to get a new passport picture.
Have you encountered dissatisfaction or complications caused by someone without the necessary qualifications?
Complications, insufficient effect and the resulting discontent of the client – that can happen to anyone, and not just in our field. Anyone who claims that nothing like that ever happened to him or her is probably not telling the truth. All the doctors I know make every effort to avoid complications and embarrassing results, or know how to correct them. I have seen terrible results after the application of botulinum toxin several times somewhere abroad; people, who were probably not even medical workers, were injecting it in places like parlours or at parties.
Based on your experience, what procedures can slow down the signs of ageing or delay them?
From dermatological procedures, these are mainly laser rejuvenation methods, hyaluronic acid or plasma applications in the form of mesotherapy, then moisturizing rejuvenation using fruit acids in chemical peeling. Amazing effect can be reached after the application of botulinum toxin on wrinkles and sweating.
What do you recommend to people between 35 and 50 years of age when it comes to skin care?
I recommend photoprotection to everyone, i.e. protection against the effects of UV rays and hydration of the whole organism. For the younger ones, I would like to stress the principle that "less is more." I recommend avoiding changing various skin preparations, reasonably sticking to proven treatments. When you consider all the things that are applied to the skin from youth, especially for girls –cleaning preparations, soaps, detergents, shampoos, emulsions, creams, make-up and more on a daily basis – I ask my clients the question: "How is the poor skin supposed to endure all that over the whole lifetime?" For the older ones, professional treatment is only for the good of their skin. The principle of photoprotection and hydration weighs twice as much for the older ones.
---