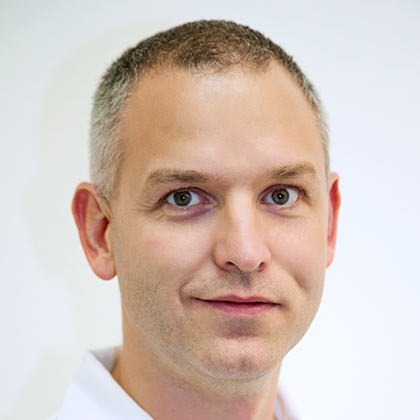 Education and work experience:
Undergraduate degree from the Third Medical Faculty
Graduation at the Third Medical Faculty in 1999
Board Certification of I. degree in 2003
Overview of specialized education and qualifications:
2007 - ENT specialist qualification recognition
2013 - Test for the granting of the senior doctor license in the field of ENT
Lifelong learning diploma:
For every year from 2007 to 2012 and then from 2013 to 2018, he was awarded the diploma for lifelong medical education
Practice in the field:
2001 - Medical Healthcom, s.r.o. - speech-language therapy and ENT, F. Šram, Associate Professor
2001 to present - ENT department and head and neck surgery
2010 to present - Esthé-Clinic of Aesthetic Medicine, H. Raková, MD, MBA
2013 to present - Head of the ENT, head and neck surgery department at Na Homolce Hospital
2014 to present - Head of the ENT, head and neck surgery department at Na Homolce Hospital
Educational activity:
Teaching medical students - Oncology in ENT lectures, for medical students of the Third Medical Faculty at the Charles University as part of the subject Oncology
2006 - 2011 - irregular medical education
As a doctor, what do you specialize in? What interests you most in your field?
Diagnostics and the treatment of snoring and SAS, functional endoscopic sinus surgery (FESS), diagnostics and treatment of salivary gland diseases, jaw bone issues.
What do you specialize in at Esthé Clinic?
Laser procedures across the entire scope of the field, fillers, mesotherapy, diagnostics and the treatment of snoring and SAS.
How do your consultations look like?
The examination of the patient is carried out including his or her anamnesis and we proceed based on the objective finding and wishes of the patient.
Can you recall a story of a patient whom you helped and were very happy about it?
Each patient leaving the doctor's office/operating theatre is satisfied.
Have you encountered dissatisfaction or complications caused by someone without the necessary qualifications?
I have experienced these situation, but luckily there were not many of them.
Based on your experience, what procedures can slow down the signs of ageing or delay them?
A therapy is determined based on the patient's complaints and objective finding in order to reach the maximum effect in the given case.
What do you recommend to people between 35 and 50 years of age when it comes to skin care?
It depends on the particular patient and his or her skin type. Each patient needs an individual approach.
---