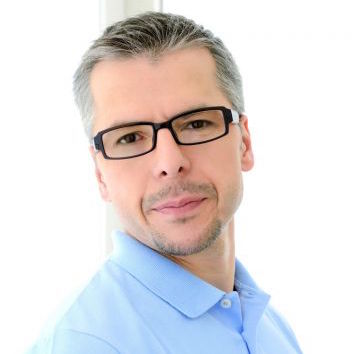 Education and work experience:
1992 - 1998 – Faculty of Medicine in Hradec Králové, Charles University, Czech Republic – Study programme: General Medicine
12/2001 – Board certification in surgery
04/2006 – Specialized qualification in surgery
06/2006 – Board certification in vascular surgery
08/1998 - 05/2006 – Surgery department in the Opočno Hospital, Opočno, Czech Republic, specialization in surgery, license
Complex Surgical Diagnostics and Treatment, specialization in the laparoscopic surgery of the stomach, intestine and the biliary tract
09/2003 - 05/2006 – Regional medical rescue service of the Hradec Králové Region, Doctor in the medical rescue service team
06/2006 - present – vascular, robotic and endovascular surgery, Na Homolce Hospital, Prague
Specialization in vascular surgery, head physician of the department, holder of the license to assume the position of the senior physician, Complex diagnostics and treatment of vein and artery diseases, specialization in laparoscopic and robotic surgery, treatment of abdominal and aortic aneurysm, participation in the extraction of transplanted tissues, coordination of tissue transplant procedures since 2008
2010 - 2015 – Bomtonclinic, clinic of aesthetic and vascular surgery, Prague – management and executive director of the company
Special education:
05/2007 – Advanced course in laparoscopic surgery, Hospital Podlesí, Třinec, Czech Republic (Training in the most advanced laparoscopic surgical method in general surgery)
09/2007 – Advanced course in laparoscopic and robotic aortoiliac surgery, IRCAD-EITS, Strasbourg, Francie (Training in laparoscopic and robotic procedures in vascular surgery – bypasses and aneurysms)
03/2008 – Duplex sonography of peripheral veins, VFN Prague, IPVZ
04-05/2009, 08-09/2009, 03-04/2010 – Texas Heart Institute, St. Luke´s Episcopal Hospital, Houston, Texas, USA: Internship in surgical methods of chest and abdominal aorta surgeries for aneurysms, participation in the creation of procedures for these surgeries in the Czech Republic
09/2010 Certification to use high-performance lasers Candela GentleYAG a Quanta C
12/2011 Certification to perform radio-frequency procedures of varicose veins using the method VNUS Closure Fast with intraoperational sonography, experience with miniinvasive surgeries of varicose veins
05/2013 ABS Institute, Millard plastic surgery, Denver, USA (4D VASER Hi Def Liposculpture, VASERSmooth course, miniinvasive liposuction, cellulite surgeries)
10/2015 Certification to perform varicose vein surgeries using the Clarivein method, Prague
Membership:
Czech Society of Cardiovascular Surgery
Czech Surgical Society
Czech Society of Robotic Surgery
Czech Society of Angiology
As a doctor, what do you specialize in? What interests you most in your field?
Right from the beginning of my practice, I have specialized in vascular surgery. Within this field, I am particularly interested in very delicate, so-called miniinvasive surgeries. These are mainly laparoscopic and robotic surgeries.
What procedures do you specialize in at Esthé Clinic?
My main role at Esthé consists in the treatment of varicose veins. As is my habit, I perform these using the most delicate methods to make sure they bear excellent aesthetic results.
How do your consultations look like?
My Consultation consists in a discussion with the client – we talk about his problems, then I clinically examine the body part in question and identify the source of the varicose veins using the sonograph. This is very important for the decision on the type and course of the treatment. In the end, I devise a plan of the course of the treatment.
Can you recall a story of a patient whom you helped and were very happy about it?
I have many such experiences. I have to admit that the most joyful feeling is when a surgery helps to save someone's life, however, these types of surgeries are not performed at Esthé Laser Clinic.
Have you ever encountered dissatisfaction or complications in treatment?
Complications can occur, it is always necessary to assess the whole process and proceeed in such a way in order to make sure that the client, as well as the doctor are going to be satisfied.
What do you recommend to people between 35 and 50 years of age, when it comes to care for their limbs?
Mainly to try to prevent the formation of varicose veins – use support stockings, be physically active, maintain proper regimen and if need be, when it comes to advanced vascular disease go for the most delicate and suitable course of treatment.
---